How to start an online community?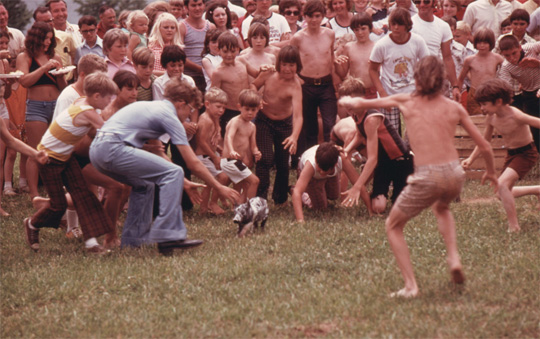 To be clear, I won't give you any answers here. Why? Because I actually don't really know. And I need your help in order to get this thing done. In order to grow a big and nice community for the Zero Race.
The Zero Race: what's this?
Do you know the Solar Taxi? It's a guy who decided one day he'd go around the world with a solar powered car. And he did so. It took him 565 days, a blue spaceship-like car and a lot of patience. But he did it. And now this guy, Louis Palmer decided to reach the next milestone: organizing a round the world race in 80 days. Only with electric powered vehicles. The Zero Emissions Race!
I will be managing the Facebook and Twitter accounts. I'll have to grow the fan base and the follower number. But what for? Huge amounts of fans or followers won't make a great community. I'm trying to figure out what will make this community worth being part of. How to attract new members, and keep the good ones. Make it a living place where you want to go back and participate.
First of all: what IS a community?
According to the WWWebster Dictionary, a community is (one of several related definitions): a unified body of individuals: as…. a body of persons of common… interests scattered through a larger society. (source webdesign.about.com)
Where to start?
Here are the first suggestions I got for my network
Thanks for your inputs guys. I'm going to look precisely to each of those topics. And share the findings with you here. Please give me your inputs about this project. Maybe you want to join the fan page on Facebook or follow to project on Twitter. Every suggestion is welcome.