Are you looking for a place to base your startup? Or are you a freelancer looking for coworking spaces in Basel because you are sick of your home office? I have gathered a couple of places (all of them?) that might suit your needs. I did not try them out all, yet.
Unternehmen Mitte
The cheapest option and right in the center of the city. The Unternehmen Mitte Café downstairs is the perfect place to work for an afternoon. They have a very interesting concept where you do not have to consume anything. You can just go there an enjoy the Wifi, free of charge. Although it can get really noisy and busy.
The actual coworking spaces are on floor 1 and 3. The 3rd floor is very quiet. You can bring your own chair. The ones provided are not great if you spend the whole day working there. Some people also brought some furnitures to stock their belongings. The first floor is more busy.
Daily rate: not possible
Monthly: starts at CHF 200 (only fix desks)
Startup Academy
From events to coaching for startups they offer it all. The academy is also looking for volunteer experts and mentors to help their startups grow. They are located in the city center right next to Aeschenplatz.
Daily rate: CHF 21 (only possible with a 24 half-day entry card: CHF 250)
Monthly: starts CHF 350 (flex-desk)
Launch lab
Based in the Gunderlingerfeld, behind the train station, it's the perfect place for climbers. The climbing hall is right behind. The have a creative wood structure inside of the hall, but the space often feels a bit empty. A lot of networking events are held there. That's also where the Swiss Tech Talks are held.
Daily rate: CHF 20
Monthly: CHF 250
Rhizom
Previously: element design & scenography –  co-working space. They recently changed their name, launched a sleek website… and lowered the price. This is the perfect place to go if you work in scenography or in the cultural domain.
Daily rate: CHF 25 (it is CHF 20 it you take a yearly membership of CHF 60)
Monthly: CHF 425 (it is CHF 380 if stay for 12 month)
Kleinhafen
The Kleinhafen opened on March 1st 2016. This coworking space is based on close to the German border and offers an inspiring view on the harbour. I tend to spend quite some time there. An information design company and architects started the place.
Daily rate: CHF 25
Monthly:  CHF 450
Nookbox
A brand new place (they've opened in February 2016). Right in the center of the city. It's the closest option to the train station.
Daily rate: not possible
Monthly: CHF 400
Craftsman space
It opened on Feb 1st 2016 and is the first coworking space in Basel (Switzerland even?) specially dedicated for craftsmen. Rates start at 19.90 CHF per day.
Daily rate: 8 CHF / hour
Monthly: CHF 580 all inklusive
www.facebook.com/CraftsmanSpaceCoworking/
Secret-ariat
This work space is based just behind the French border, in Hegenheim. It is the cheapest solution for a monthly usage, but the most expensive per day. They do not advertise their prices on the website.
Daily rate: EUR 35
Monthly: starts at EUR 180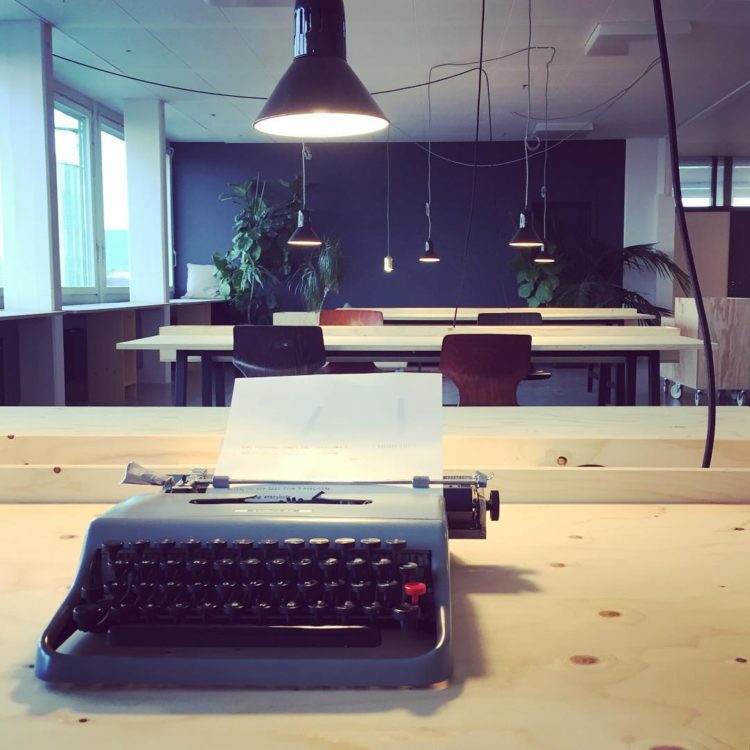 Other cool work environments
Stellwerk is not a coworking space but they rent out rooms for creative people. Rakete or Fazit are other places you might want to give a try. R105 is specially dedicated to creative/art/culture related workers.
Unterdessen is an organisation providing temporary office in building with have to be repurposed. You might need Google Translate, the website is only in German.
The Coworking spaces in Basel Map
All the spots listed above on a map. Red = Coworking, Green = other places
Did you hear of any other spots? I'm pretty sure there must be some creative agencies renting out some of their desks as well. Let me know if you have something.
Photo credit: Stereo Architektur GmbH, Lukas Schaffhuser