Techies & Bloggers networking Events in "Suisse Romande"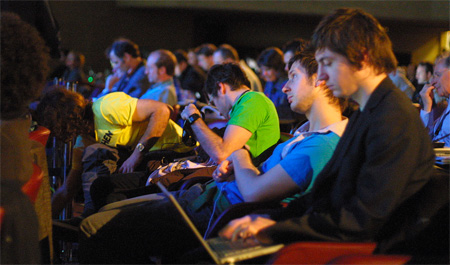 Summer holidays are over, it is time for business (mainly!) networking again. In June, I posted a first article about networking. Here a some new resources for the autumn.
Unique events
Lift 10 – 5-7 May 2010, Geneva
This is the main conference when it comes to new technologies&Co. It's held in Geneva at the CICG. You can already get you pass here. Hurry up until the 30th September you still get the very-early birds for CHF 550. I only attended the 2007 edition but I was quite amazed by the quality of the venue!
www.liftconference.com
Recurring events
Tweetzerland
This first swiss event only about Twitter. It's held every month in Geneva. Laid back atmosphere, nice people, but still… where are the girls? A event will be organized in Lausanne this September.
(webiste is offline)
Eclau Breakfasts and apéros
Eclau is a co-working space created in Lausanne by Stephanie Booth. You can rent your workplace monthly.  I'll try this out for you! So See you there?
www.eclau.ch
Geneva Web Group
You want to meet people working in Genevas NGO and UN organization web departments?This is the place to go. Join the discussion on their Google Group.
Geneva Webgroup on Yahoo
Web Analytics Wednesday
This event is organized once in a while. The last on I've attend wasn't really interesting, but still is a good excuse to meet new people. I don't think they've planned a new once here in Switzerland.
www.webanalyticsdemystified.com
Stephanie Booth just published a post with a lot of interesting dates too.