After two interviews in french. The first with Xavier and the François we're starting a new thing here. Bilinugal interviews! A german-english mix. We went to school together with Björn.
1. What did you do after you graduated from the Emaf in 2004?
Danach habe ich fast 8 Jahre in verschiedenen Werbeagenturen als konzeptioneller Art Director gearbeitet (assai.ch / wirz.ch / publicis.ch / bbdo.de). Seit einem halben Jahr arbeite ich als Frelancer und für meine eigen Firma (in-halt.ch).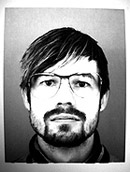 2. Which were your motivations to start this formation?
Zu dieser zeit hat es sich abgezeichnet, dass in Zukunft sich die Visuellen-Kommunikation in der digitalen Welt abspielen wird.
3. Which are the qualities of this formation?
Ein vielfältiger Einblick in die Digitale-Kommunikation, aus gestalterischer Sicht.
4. And Its weak points?
Wie die zukünftige Praxis der Ausbildung aussieht (war sicherlich auch ein Problem dieser Zeit).
5. Do you think you were well prepared to enter your professional life?
Ich bin in die Berufswelt gerutscht. mir sind selten Wissenslücke aufgefallen.
6. Describe rapidly your professional experience
Ich habe lange in der Klassischen-Kommunikation gearbeitet, aber immer mit dem willen diese mit den "Neuen Medien" zu kombinieren.
Dieses wurde vor allem befriedigt mit der Arbeit der digitalen Abteilung von Publicis.
7. Do you consider yourself as a specialist or generalist?
Generalist
8. Did you do any continuing education? If yes, which one and why?
Nicht wirklich. ein Text-Wokshop, um Einblick ins Texten zu bekommen.
9. Would you recommend this formation? If not, which alternate option would you give?
Zu dieser zeit hätte ich sie Empfohlen. Heute wüsste ich nicht.
10. For you, which quality does a multimedia designer need?
Den willen sich immer weiter zu entwickeln (Mit den Medien) und zu akzeptieren was Heute ein Standart ist Morgen keiner mehr ist.
11. Any additional remarks
Ich glaube der Markt ist immer noch nicht bereit für Leute mit diesem Abschluss. 😉