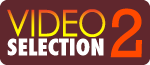 After the music video selection, I chose to continue this serie with video mashups. Also called video sampling, it's a form of art for itself. By using existing footage you create a brand new way to look at the same images.
Giovanni Sample
This is not fresh stuff, my friend Vijem sent me this maybe 3 years ago but it doesn't loose its interest. The "Black track" is not my favorite video, you should really make sure to check out Giavonnis "Basicamente" mashup on his website (Mondovision>Basicamente).
Eclectic Method
Those London natives are a fusion of DJs and VJs. Usually you have one of each. Those guys do both at the same time. Really impressive. I couldn't resist to post you a "making of" movie. Great stuff. www.eclecticmethod.net. I couldn't find a tour date in Switzerland. Das ist aber schade!
Kutiman
He is a musician and video editor from Israel. With almost 800'000 views on Youtube the following video is not exactly fresh stuff.
Lasse Gjertsen
I'm pretty sure you saw at least one of his videos. But with his hyperactive editing style, he is bringing his personnal touch to this art. Ok, this maybe a bit different since he is shooting his own video before editing them. Still, this is pretty interesting.
It really wasn't easy to find good new stuff. So I'd really appreciate your contribution to this post. Do you know any other video sampler?