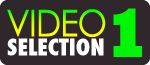 In the last weeks, I've spend a lot of time browsing around on video websites. I decided to start a post serie to share my findings. The first article on this topic is about music video. It's always incredible how many (wierd & insane) ideas the directors can have.
Ramona Falls – I say Fever
This is one of the best music videos I've seen. It starts slowly, but then! Waouh!
Yeasayer – Ambling Alp
Fujiya & Miyagi – Ankle Injuries
Röyksopp – This must be it
Themselves – Roman is as Roman does
Cinnamon Chasers – Luv Deluxe
Nathalie Portman's Shaved Head – Sophisticated side poneytail
I'm not really sure why I put this head. Too many colors, too much everything.
We have Band – You came out
Vitalic – See the Sea
And the last one is swiss made. It has been directed by my buddy Brillantine and his mates from DIY. Respect!

2 weeks ago, I wrote an post about webserie in french. You might want to check it out too. And stay tuned for the next post in the serie.
*Videsel = Video Selection (But you got that? Ain't you?) – Je commence à écrire comme un ricain…