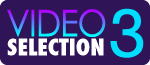 First the was stop motion animation. Then came the computer. Nowadays animations can be a between a whole bunch of different media. I made a little selection of different techniques. This post is part of the Video selection serie (part 1 & part 2).
Videogioco – Loop experiment
By Donanto Sansone. This guy is pretty weird… Make your own opinion by checking his other videos on Vimeo. The technique he used in this animation a quite special.
Psst – The end
By Buck, a small team from LA. A mix of stop motion, computer animation and real video.
Lucia
By Dulivo, an Audiovisual Art Collective from Santiago (Chile). This animation has a second part called "Luis". A creepy characoal stop-motion work.
Vanitas
By Charlotte Cornaton, a french motion/graphic designer and ceramist artist from Paris.
Return as an animal
By Bruno Dicolla a brazilian artist. His interview on Shift.
The seed
By Johnny Kelly. An short film funded by Adobe. An interesting making of is available here.